Wedding Studio
Located in Whitemarsh Township, the EP Studio Ceremony Studio is convenient to the Greater Philadelphia area.
Package deal includes 1 hour

Customized ceremony included

Ceremony Officiant included

Ceremony music included

Post ceremony photos included

Celebration Toast included up to 6 guests

Seating up to 24 guests

$675
Wedding Officiant
Over 27 years of experience with weddings has shown us the best ways to customize your first steps into a new journey together!
Whether you know how you would like your ceremony to be presented, or if you need our help creating it from beginning to end, EP Studio has you covered. Non-denominational or religious services provided for any couple at any venue. We even have a wedding studio available for those who don't have a big budget, but want to get married in an amazing atmosphere with up to 24 guests.
The EP Studio Wedding Studio!
Get Married In Our Wedding Studio!
Our Wedding Studio, open since 2019, has gone through some aesthetic changes to enhance your experience.
The studio features a decorated arch against a black backdrop with a curtain of roses, partition walls accented with a lighted flower rope and other floral accents, a processional runner, and chairs that can be accented with white decorative covers and sashes of your color choice. Overhead, fabric and light accents add to the intimate atmosphere. Below, lighted wine glass accents add to the charm and intimacy. Lighting can be adjusted to various color schemes to better coordinate with your wedding colors. Personal decoration may also be added if desired.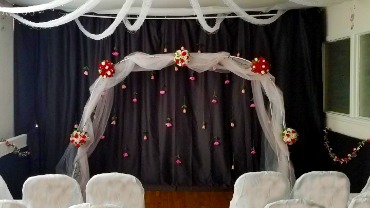 Whether you need to book our services, register for a special event,
or ask us some questions, you can use this form to specify your needs.
If applicable, give us a date and time of day you would like a response.